Revo 2.0 TFSI | Air Intake System
Revo Open Cone Systems completely replace the OEM air intake for those who like to announce their vehicle is far from standard. Along with an aggressive intake sound, more air means access to more power throughout the rev-range
Part no: RHW23
---
Technical Data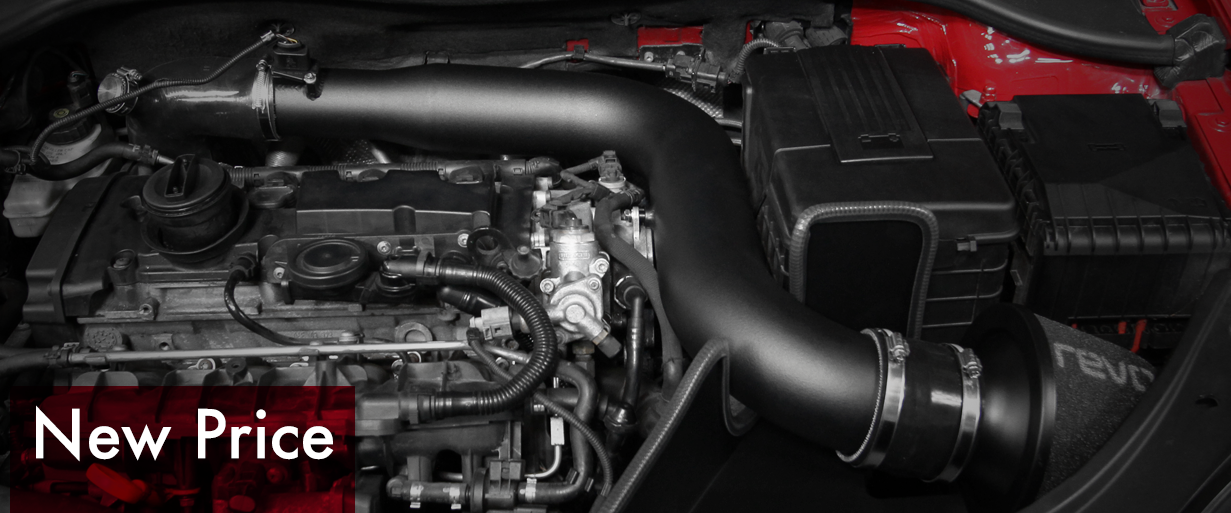 The factory 2.0 TFSI air-box works efficiently on a standard vehicle. As power is increased through tuning, however, it quickly becomes a major restriction, reducing the additional power offered. Ensuring the engine can get access to enough air is paramount when increasing power, an open cone air-intake system is the most effective way of achieving this, but not all products are made equal.
Having worked with a number of intake solutions during software development, we noticed a lack of high quality and more importantly, high flowing kits available. Working alongside some of the biggest names in the air filter industry, we engineered and designed what is still one of the highest flowing kits available.
Pioneering design allows air to reach the turbo as quickly as possible whilst minimising turbulence and restriction. As a result, boost can be maintained for longer, giving you access to more power throughout the rev-range along with a more aggressive sound, and performance you can feel all the way to the redline.
BENEFITS
Increases power and torque
Maintains boost for longer
Single piece pipe
25% less restriction
Three-layer foam filter
Scaled MAF housing
CamCoat option available
---
Ensuring correct MAF (Mass Air Flow) sensor scaling is the real art when it comes to designing air intake systems if incorrect the intake system can actually reduce power and cause major fuelling issues. The Revo kit integrates the stock MAF sensor in a specifically designed housing on the one-piece pipe to ensure correct scaling during fitment.
THREE LAYER FOAM FILTER
An intake system is only as good as the filter. This kit comes complete with a tried and tested Revo three-layer foam filter with an impressive 857cm² surface area, supported by galvanised, epoxy-coated mesh to ensure the filter cannot collapse. The filter has a large 180mm external diameter body and a smooth radius aluminium bell mouth, specifically designed for optimum airflow from the filter to pipe-work. Revo three-stage foam filters work very differently to conventional paper or cotton-gauze, which are surface filters designed to trap particles on the outer layer, instantly causing restriction.
Revo foam filters work by trapping dirt particles within each of the oiled foam layers, allowing air to negotiate its way through the filter, reducing restriction and offering much longer service intervals. We tested the filter at a leading motor testing centre 'Mira' on an industry recognised dust load test. On a full dust load test, the foam filter was found to still be 99.1% efficient, filtering down to 5 microns while offering the least amount of restriction over similar products.
HEAT SHIELD
The intake system features a laser-cut aluminium heat shield that ensures the filter is well insulated from ambient under-bonnet temperatures. The shielding is designed to utilise the ducting in the factory grill to maximise airflow and prevent heat-soak.
SILICONE HOSE
The silicone hoses included in the kit are manufactured using high-quality automotive grade silicone, engineered to combine the system using stepped necks to offer a smooth transition of air to avoid turbulence. The turbo inlet hose has also been specifically designed to fit both K03 and K04 turbo powered cars.
INTAKE PERFORMANCE FIGURES
---
| Engine | Software | Power | Torque |
| --- | --- | --- | --- |
| 2.0 TFSI (K03) | Stage 1 | + 16 BHP | + 5 NM |
| 2.0 TFSI (K04) | Stage 2+ | + 40 BHP | + 15 NM |
*Maximum power and torque increases are shown in testing when using Revo 2.0 TFSI intake system compared to a stock intak
FITMENT
---
| Manufacturer | Model | Engine | Year |
| --- | --- | --- | --- |
| Audi | A3 (8P) | 2.0 TFSI | 2006 – 2012 |
| Audi | S3 (8P) | 2.0 TFSI | 2006 – 2012 |
| Seat | Leon MK2 | 2.0 TFSI | 2005 – 2012 |
| Seat | Altea | 2.0 TFSI | 2006 – 2009 |
| Skoda | Octavia Mk2 | 2.0 TFSI | 2005 – 2013 |
| VW | Golf MK5 | 2.0 TFSI | 2003 – 2009 |
| VW | Golf MK6 (R, ED35) | 2.0 TFSI | 2008 – 2013 |
| VW | Scirocco R | 2.0 TFSI | 2008 > |
| VW | Jetta | 2.0 TFSI | 2006 – 2010 |
| VW | Passat | 2.0 TFSI | 2005 – 2010 |
Part no: RHW23